Pick Of The Day /// Francis Wolff and Reid Miles.
5 Febbraio, 2015
---
Il Jazz, per me, è sempre stato letteralmente un mondo a parte nella musica e lo è ancora adesso. Qualche anno fa andai a suonare a Siena e mi ritrovai in un contesto dove si parlava del 70° anniversario della storica etichetta BLUE NOTE che vennero poi festeggiati in un concerto qualche giorno dopo.
Un amico che aveva organizzato il mio live mi fece vedere il video di presentazione dell'evento ed io rimasi di sasso perché ripercorrevano tutte le cover che avevano fatto storia nel Jazz ovviamente targate BN. Tralasciando il video che vi lascio in fondo al post, potrei presentarvi i due artisti in questione con  una similitudine simile legata al basket…
Se il manager-talent-scout viaggia a "braccetto" con il team di allenatori allora il gioco espresso dalla squadra sarà d'impatto e spesso efficace.
Questa analogia è capitata alla Blue Note quando ha assunto prima il fotografo Francis Wolff e poi il graphic design Reid Miles. Aggiungete a tutto questo un cast di artisti fuori "script" per talento e avrete la storia in 3 arti differenti: musica, fotografia e graphic design. Tantissime le cover del genere che avuto la fortuna del tocco di questi due tra il 1950 al 1960 e saliamo oltre i 500 LP targati dal duo. Pensate che alcune di queste hanno ispirato cover di altri generi e di altri artisti come il Blue Train per John Coltrane che ispirò  il design per gli album 12 Bar Blues di Scott Weiland del 1998, e per All of the Above di J-Live.
Quando guardo le loro cover penso alla realizzazione visiva del JAZZ. Stasera sono di scena con Fabio Musta al @ Tilt di Avellino, parlavamo di dischi e delle cover che hanno attraverso le loro combinazione e siamo giunti ad una conclusione…
---
Wolff with Miles ??? The PERSONIFICATION Printification of Jazz.
---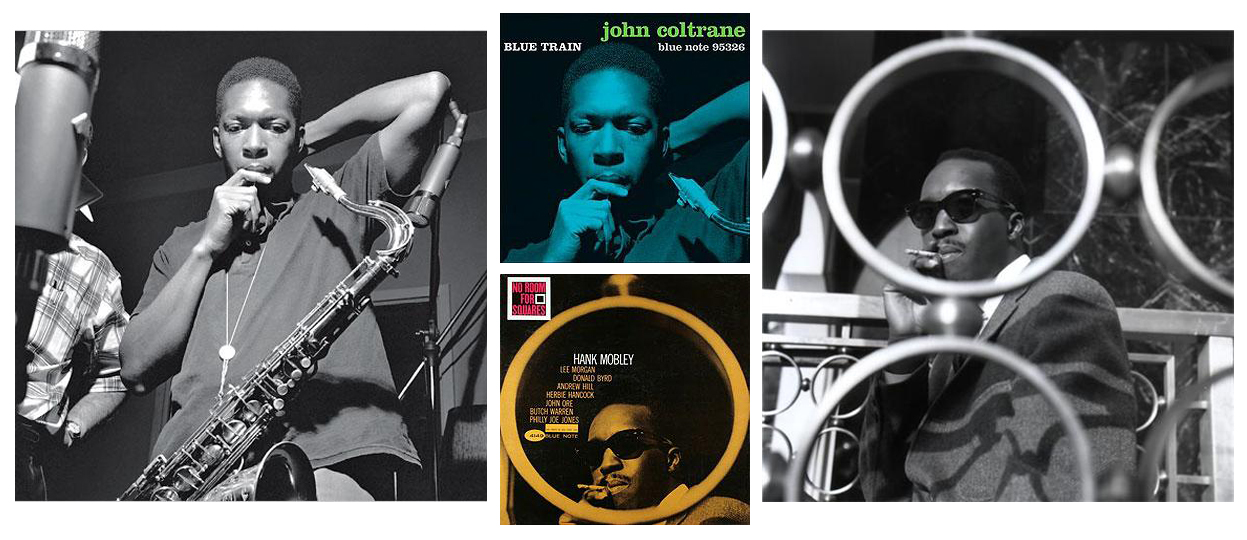 ---
Art Blakey and The Jazz Messengers   Label: Blue Note 4003   12″ LP 1958
Design: Reid Miles   Photo: Buck Hoeffler
Dizzy Reece: Blues In Trinity   Label: Blue Note 4006   12″ LP 1958
Design: Reid Miles   Photo: Francis Wolff
Donald Byrd: Off to the Races   Label: Blue Note 4007   12″ LP 1958
Design: Reid Miles   Photo: Francis Wolff
Horace Silver: Finger Poppin´   Label: Blue Note 4008   12″ LP 1958
Design: Reid Miles   Photo: Francis Wolff
 Bud Powell: The Scene Changes   Label: Blue Note 4009   12″ LP 1958
Design: Reid Miles   Photo: Francis Wolff
Jimmy Smith; The Sermon!   Label: Blue Note 4011   12″ LP 1959
Design: Reid Miles   Photo: Francis Wolff
Jackie McLean: New Soil   Label: Blue Note 4013   12″ LP 1959
Design: Reid Miles   Photo: Francis Wolff
Art Blakey at the Jazz Corner of the World   Label: Blue Note 4015   12″ LP 1959
Design: Reid Miles   Photo: Francis Wolff
Horace Silver: Blowin´ The Blues Away   Label: Blue Note 4017   12″ LP 1959
Design: Reid Miles   Illustration: Paula Donohue
Walter Davis Jr: Davis Cup   Label: Blue Note 4018   12″ LP 1959
Design: Reid Miles   Photo: Francis Wolff
Kenny Burrell at the Five Spot Cafe   Label: Blue Note 4021   12″ LP 1959
Design: Reid Miles   Photo: Francis Wolff
 Dizzy Reece: Star Bright   Label: Blue Note 4023   12″ LP 1959
Design: Reid Miles   Photo: Francis Wolff
Jackie McLean: Swing, Swang, Swinging   Label: Blue Note 4024   12″ LP 1959
Design: Reid Miles   Photo: Francis Wolff
Donald Byrd: Fuego   Label: Blue Note 4026   12″ LP 1960
Design: Reid Miles   Photo: Francis Wolff
Freddie Redd – Jackie McLean: The Connection   Label: Blue Note 4027   12″ LP 1960
Design: Reid Miles   Photo: Herb Snitzer
Art Blakey: The Big Beat   Label: Blue Note 4029   12″ LP 1960
Design: Reid Miles   Photo: Francis Wolff
Hank Mobley: Soul Station   Label: Blue Note 4031   12″ LP 1960
Design: Reid Miles   Photo: Francis Wolff
Lee Morgan: Lee-Way   Label: Blue Note 4034   12″ LP 1960
Design: Reid Miles   Photo: Francis Wolff
Horace Parlan: Us Three   Label: Blue Note 4037   12″ LP 1960
Design: Reid Miles   Photo: Francis Wolff
Jackie McLean: Capuchin Swing   Label: Blue Note 4038   12″ LP 1960
Design: Reid Miles   Photo: Francis Wolff
Stanley Turrentine: Look Out!   Label: Blue Note 4039   12″ LP 1960
Design: Reid Miles   Photo: Francis Wolff
Freddie Hubbard: Open Sesame   Label: Blue Note 4040   12″ LP 1960
Design: Reid Miles   Photo: Francis Wolff
Tina Brooks: True Blue   Label: Blue Note 4041   12″ LP 1960
Design: Reid Miles   Photo: Francis Wolff
Horace Silver: Horace-Scope   Label: Blue Note 4042   12″ LP 1960
Design: Paula Donohue
Freddie Redd: Shades of Redd   Label: Blue Note 4045   12″ LP 1960
Design: Reid Miles   Photo: Francis Wolff
Duke Jordan: Flight To Jordan   Label: Blue Note 4046   12″ LP 1960
Design: Reid Miles   Photo: Francis Wolff
Art Taylor: A.T.´s Delight   Label: Blue Note 4047   12″ LP 1960
Design: Reid Miles   Photo: Francis Wolff
Art Blakey: A Night in Tunisia   Label: Blue Note 4049   12″ LP 1961
Design: Reid Miles

Stanley Turrentine: Blue Hour   Label: Blue Note 4057   12″ LP 1961
 Design: Reid Miles   Photo: Francis Wolff
Hank Mobley: Roll Call   Label: Blue Note 4058   12″ LP 1961
Design: Reid Miles   Photo: Francis Wolff
Kenny Drew: Undercurrent   Label: Blue Note 4059   12″ LP 1961
Design: Reid Miles   Photo: Francis Wolff
Jackie McLean: Bluesnik   Label: Blue Note 4067   12″ LP 1961
Design: Reid Miles   Photo: Francis Wolff
Horace Parland: On the Spur of the Moment   Label: Blue Note 4074   12″ LP 1961
Design: Reid Miles   Photo: Francis Wolff
Hank Mobley: Workout   Label: Blue Note 4080   12″ LP 1961
Photo: Francis Wolff
Dexter Gordon: Dexter Calling   Label: Blue Note 4083   12″ LP 1961
Photo: Francis Wolff
Baby Face Willette: Stop and Listen   Label: Blue Note 4084   12″ LP 1961
Design: Reid Miles   Photo: Francis Wolff
Freddie Hubbard: Ready for Freddie   Label: Blue Note 4085   12″ LP 1961
Photo: Francis Wolff
Leo Parker: Let Me Tell You 'Bout It   Label: Blue Note 4087   12″ LP 1961
Photo: Francis Wolff
Art Blakey: Buhaina´s Delight   Label: Blue Note 4104   12″ LP 1962
Design: Reid Miles   Photo: Francis Wolff
Jackie McLean: Let Freedom Ring   Label: Blue Note 4106   12″ LP 1962
Design: Reid Miles   Photo: Francis Wolff
Don Wilkerson: Preach Brother   Label: Blue Note 4107   12″ LP 1962
Design: Reid Miles   Photo: Francis Wolff
Herbie Hancock: Takin' Off   Label: Blue Note 4109   12″ LP 1962
Design and Photo: Reid Miles

Dexter Gordon: Go   Label: Blue Note 4112   12″ LP 1962
Design: Reid Miles   Photo: Francis Wolff
Don Wilkerson: Elder Don   Label: Blue Note 4121   12″ LP 1963
Design: Reid Miles   Photo: Francis Wolff
Donald Byrd: A New Perspective   Label: Blue Note 4124   12″ LP 1963
Design and photo: Reid Miles
Herbie Hancock: My Point of View   Label: Blue Note 4126   12″ LP 1963
Design and photo: Reid Miles
Kenny Dorham: Una Mas   Label: Blue Note 4127   12″ LP 1963
Design: Reid Miles   Photo: Francis Wolff
Dexter Gordon: A Swingin´ Affair   Label: Blue Note 4133   12″ LP 1963
Design: Reid Miles   Photo: Francis Wolff
Joe Henderson: Page One   Label: Blue Note 4140   12″ LP 1963
Design: Reid Miles   Photo: Francis Wolff
Johnny Coles: Little Johnny C   Label: Blue Note 4144   12″ LP 1963
Design: Reid Miles   Photo: Francis Wolff
Don Wilkerson: Shoutin'   Label: Blue Note 4145   12″ LP 1963
Design: Reid Miles   Photo: Francis Wolff
Dexter Gordon: Our Man in Paris   Label: Blue Note 4146   12″ LP 1963
Design: Reid Miles   Photo: Francis Wolff
 Hank Mobley: No Room for Squares   Label: Blue Note 4149   12″ LP 1963
Design: Reid Miles   Photo: Francis Wolff
Art Blakey: The Freedom Rider   Label: Blue Note 4156   12″ LP 1963
Design: Reid Miles   Photo: Francis Wolff
Lee Morgan: The Sidewinder   Label: Blue Note 4157   12″ LP 1963
Design: Reid Miles   Photo: Francis Wolff
Eric Dolphy: Out To Lunch   Label: Blue Note 4163   12″ LP 1964
Design and photo: Reid Miles
Joe Henderson: In ´n´ Out   Label: Blue Note 4166   12″ LP 1964
Design: Reid Miles   Photo: Francis Wolff
Wayne Shorter: Night Dreamer   Label: Blue Note 4173   12″ LP 1965
Design and photo: Reid Miles
Herbie Hancock: Empyrean Isles   Label: Blue Note 4175   12″ LP 1964
Design: Reid Miles   Photo: Francis Wolff
Grachan Moncur: Some Other Stuff   Label: Blue Note 4177   12″ LP 1964
Design and photo: Reid Miles
Jackie McLean: It´s Time   Label: Blue Note 4179   12″ LP 1964
Design: Reid Miles   Photo: Francis Wolff
Kenny Dorham: Trompeta Toccata   Label: Blue Note 4181   12″ LP 1964
Design: Reid Miles   Photo: Francis Wolff
Wayne Shorter: JuJu   Label: Blue Note 4182   12″ LP 1964
Design and photo: Reid Miles
Duke Pearson: Wahoo   Label: Blue Note 4191   12″ LP 1965
Design and photo: Reid Miles
Wayne Shorter: Speak No Evil   Label: Blue Note 4194   12″ LP 1965
Design and photo: Reid Miles
Herbie Hancock: Maiden Voyage   Label: Blue Note 4195   12″ LP 1965
Design and photo: Reid Miles
Freddie Hubbard: Blue Spirits   Label: Blue Note 4196   12″ LP 1965
Design and photo: Reid Miles
Bobby Hutcherson: Dialogue   Label: Blue Note 4198   12″ LP 1965
Design: Reid Miles   Photo: Francis Wolff
Lee Morgan: The Rumproller   Label: Blue Note 4199   12″ LP 1965
Design: Reid Miles   Photo: Francis Wolff
Dexter Gordon: Gettin Around   Label: Blue Note 4204   12″ LP 1965
Design: Reid Miles   Photo: Francis Wolff
 Pete La Roca: Basra   Label: Blue Note 4205   12″ LP 1965
Design: Reid Miles   Photo: Francis Wolff
Sam Rivers: Contours   Label: Blue Note 4206   12″ LP 1965
Design and photo: Reid Miles
 Hank Mobley: Dippin'   Label: Blue Note 4209   12″ LP 1965
Design: Reid Miles   Photo: Francis Wolff
Jackie McLean: Right Now!   Label: Blue Note 4215   12″ LP 1965
Design: Reid Miles
Wayne Shorter: The All Seeing eye   Label: Blue Note 4219   12″ LP 1966
Design: Reid Miles   Photo: Francis Wolff
Larry Young: Unity   Label: Blue Note 4221   12″ LP 1966
Design: Reid Miles
Lee Morgan: Cornbread   Label: Blue Note 4222   12″ LP 1966
Design: Reid Miles   Photo: Francis Wolff
Mode for Joe Henderson   Label: Blue Note 4227   12″ LP 1966
Design: Reid Miles   Photo: Francis Wolff
Hank Mobley: A Caddy for Daddy   Label: Blue Note 4230   12″ LP 1966
Design and photo: Reid Miles
 Wayne Shorter: Adam's Apple   Label: Blue Note 4232   12″ LP 1966
Design: Reid Miles   Photo: Francis Wolff
Cecil Taylor: Unit Structures   Label: Blue Note 4237   12″ LP 1966
Design: Reid Miles   Photo: Francis Wolff
 Stanley Turrentine: Rough'n Tumble   Label: Blue Note 4240   12″ LP 1966
Design: George Wright   Photo: Francis Wolff
Stanley Turrentine: The Spoiler   Label: Blue Note 4256   12″ LP 1966
Design: Reid Miles   Photo: Francis Wolff
Ornette Coleman; New York Is Now!   Label: Blue Note 4287   12″ LP 1968
Design: Forlenza Venosa Associates   Photo: Frances Wolff
 Donald Byrd: Slow Drag   Label: Blue Note 4292   12″ LP 1968
Design: Forlenza Venosa Associates   Photo: Charles Keddie
Wayne Shorter: Schizophrenia   Label: Blue Note 4297   12″ LP 1968
Photo: Charles Keddie
---
---
SECONDO NOI TI POTREBBE INTERESSARE ANCHE: